Grocon 高價出售墨爾本 Spring St 高端住宅項目予另一發展商
澳洲, 墨爾本
Private developer Grocon has found another developer to take over its upmarket residential project on Melbourne's Spring Street into the market, with a deal looming at near $75 million.
In September Grocon, controlled by property scion Daniel Grollo, appointed CBRE's Mark Wizel, Lewis Tong and Josh Rutman to market the site after persistent approaches by local and offshore parties keen to get control of permitted sites in the Melbourne CBD.
The project has approval for about 225 apartments after Grocon trimmed a 44-level proposal to 39 levels and reduced the number of apartments when it was initially refused a permit.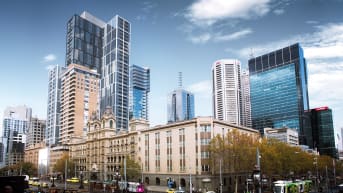 On Wednesday, a Grocon spokesman confirmed a transaction was imminent.
"We are close to concluding a transaction that will see the sale of that project to a Chinese investor," a spokesman said.
Grocon secured the Spring Street site, occupied by a 16-storey office tower, for $45 million three years ago and expects the project will be developed out along the lines of the development approval.
A number of players are thought to have been interested in the site, including China's Fu Wah International Group, which purchased Melbourne's landmark Park Hyatt hotel for about $135 million two years ago.
Local players with strong Asian funding connections ICD Property and Golden Age are also thought to have been interested.
Despite ongoing fears of an apartment glut in central Melbourne, the market in development sites in Melbourne is even stronger than last year.
Among the headline deals in recent months SP Setia acquired the high-profile site at 308 Exhibition Street from Telstra in May for $101 million.
In July, a Chinese developer snapped up the old convention centre siteoverlooking the Yarra. It paid close to $100 million for a site with approval for 1100 apartments.
In September private developer Paul Lofitis sold 299 King Street, which has approval for a 62-storey tower with 431 apartments, to China-backed developer Aurumstone Group for close to $44 million.
來源: https://www.afr.com/real-estate/grocon-passes-on-the-baton-on-spring-st-20161214-gtavq8#ixzz4UFrdauD9