"西部牛仔" 發展商非法棄置石棉廢物被罰款超過 200 萬澳元
澳洲, 墨爾本
The "cowboy" developers who knocked down the 157-year-old Corkman Irish Pub on
The "cowboy" developers who knocked down the 157-year-old Corkman Irish Pub on the Melbourne city fringe without a permit now face fines of more than $2 million – double the original estimate – after they allegedly dumped waste containing asbestos on another development site they own in the city's west.
The latest alleged infringement carries with it a maximum penalty of $758,000, according to Victoria's Environment Protection Authority. The EPA is investigating possible criminal behaviour by the owners of the site, developers Stefce Kutlesovski​ and Raman Shaqiri​.
Neither Mr Kutlesovski nor Mr Shaqiri, who jointly run developer Makshaq, could be reached for comment.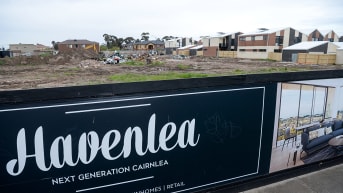 The dumped waste was found at a site at 93 Furlong Road in Cairnlea in the city's west, 34 kilometres from the pub site in Carlton, following a community tip-off to the EPA. Investigations by the EPA confirmed it contained asbestos and came from the Corkman pub site.
The dump site is where Makshaq is selling apartments in a new development called Havenlea which they describe as an "architectural oasis in the heart of Cairnlea". The site is across the road from the Cairnlea Town Centre and close to a school and childcare centre.
Speaking to the media, Lily D'Ambrosio​, the Victorian minister for suburban development, said the latest action was part an "extraordinary set of behaviours demonstrated by these cowboys".
"Frankly, no one should expect that this happens in this day and age. Our government will crack down on these people. We will pursue it and we are treating this matter very, very seriously.
"A number of very serious criminal activities are at play here," she added.
A spokeswoman for the City of Melbourne told The Australian Financial Review it was investigating the demolition of the pub and would be taking action under both the Planning and Environment Act and the Building Act.
The maximum fine for breaching the Planning and Environment Act is $186,000. A corporation breaching the Building Act by carrying out building work without a permit can incur a fine of $389,000, while an individual can incur $78,000.
Also under the Building Act, there is maximum corporate fine of $389,000 and a $78,000 fine per individual for breaching a Stop Work Order.
Source: https://www.afr.com/real-estate/residential/vic/cowboy-developers-alleged-to-have-illegally-dumped-asbestos-waste-20161026-gsax34#ixzz4OBZn1S6X