運動品牌 Adidas 進駐阿得萊德 Rundle Mall
澳洲, 阿德萊德
Sportswear giant Adidas has leased the retail property at 148 Rundle Mall for a flagship store in Adelaide CBD.
The 467-square-metre store has a glazed eight-metre frontage to Rundle Mall, double-height ceilings on the ground floor and rear loading access from Porters Lane.
The launch of the adidas' Adelaide branch follows openings in Sydney, Melbourne and Brisbane earlier this year.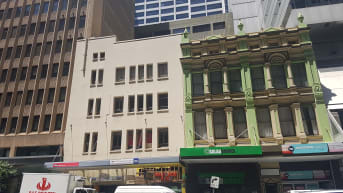 Colliers International's Ben Laycock and local investor Castenada negotiated the deal for The Zorich Group on a lease term of five years with options.
The rent is confidential, but industry sources said gross annual rents in the area were about $2000 to $2500 a square metre.
More space
Cognizant Technology Solutions has leased a part-floor office in Melbourne's 15 William Street for five years to accommodate its growth after acquiring another business, Odecee​ Software.
CBRE's Patrick Mount and Mark Bolis negotiated the 1400sq m lease deal on level 6.
The net annual rent was confidential but industry sources put it down in the high $300 a square metre.
New branch
Westpac Bank has signed a seven-year lease of a 185sq m corner retail property at 40 Creek Street in Brisbane for a new branch.
Market sources said the net annual rent for the property would be about $2300 to $2500 a square metre.
CBRE's Anna Dunworth negotiated the deal for PGA Properties.
Fit as a hunter
Fitness group F45 will open a new outlet at a recently leased commercial space at Level 2 of 19-21 Hunter Street in the Sydney CBD.
Hotel developer Megaboom​ Holdings rented out the the 201.5sq m property on a five-year term and a gross annual rent of $90,000 through Ray White's John Skufris.
The property is four-storey building near Wynyard train station.
Battery head
Chinese Shenzhen-listed battery supplier LEOCH Battery has set up its first offices in Australia at a newly leased 500sq m warehouse duplex at 29 Tarlington Place, Smithfield in Sydney's west.
LEOCH has agreed to a three-year lease on a net annual rent of $115 a square metre with a private landlord.
LJ Hooker's Aymen Sobbi and Daniel David closed the deal.
New shoes
Shoe retailer BeautiFeel has opened at a newly leased 50sq m retail space at 146 Little Collins Street in Melbourne after securing a five-year lease for the property.
A private landlord agreed to a gross annual rent of $1900 a square metre through CBRE's Zelman Ainsworth, Samantha Hunt and Tan Thach​.
Large format
Flooring company National Tiles has agreed terms on a showroom in Oxley in Brisbane for seven years with options.
CBRE's Sam Macgregor and Andrew Brimson leased the 1056sq m large format retail tenancy at 63 Factory Road for a private landlord.
Glowing deal
Sustainable solutions business Saint-Gobain Solar Gard has committed to a Wetherill Park industrial lease in Sydney's west to expand its operations.
The company will occupy the 1111sq m high clearance office and warehouse at 7 Walker Place for five years with options.
CBRE's John Micallef, Elijah Shakir and John Karlovasitis handled discussions for landlord A&V Mamone Holdings, striking a net annual rent of $110 a square metre for the property.
Truck into Truganina
The Cargo Warehouse has secured a 1985sq m industrial property in Truganina in Melbourne on a three-year lease with options for use as a multifunctional cargo handling facility.
The 32 Sunline Drive property has a hardstand and truck manoeuvring area and dual roller door access. It also has an office and provision for a five-tonne crane.
CBRE's Tom Murphy and Ricardo Cappelletti and Colliers International's Ashley McIntyre and Nick Saunders negotiated the lease at a gross annual rent of $149,000.
Move to Mulgrave
Engineering firm Procept has expanded to bigger offices at 700 Springvale Road, Mulgrave, Melbourne on a seven-year lease.
Procept will occupy level four of the five-level building, refurbished in July.
Colliers International's Kevin Tutty, Rob Joyes and Travis Myerscough brokered the deal for landlord Prime Value at a gross annual rent of $320 a square metre.
Logistics lease
Logistics companny Branding Worldwide has leased a 674sq m industrial unit at McCauley Business Park in Port Botany in Sydney's south to run their business.
The high clearance clear span warehouse comes with hardstand, parking, an office and three-phase power.
Branding Worldwide will pay a gross annual rent of $230 a square metre to landlord, private investor Amber Queen for three years.
Colliers International's Edward Princi executed the deal.
Car parts
Automotive accessories business Autobarn has agreed terms on a long-term lease of a 400sq m showroom at 249 Boundary Road, Braeside in Melbourne through Savills' Keith Kooloos.
The rental is confidential and the landlord is a Melbourne based investor.
Pergolas and fences
Sydney-based Tong & Long has taken up three-year lease with options for a 680sq m office/warehouse in Campbellfield, Melbourne to manufacture steel fences and pergolas.
The net annual rent on the property is $52,000.
Colliers International industrial executive Damien Marinelli secured the deal.
Character building
Seneca Living has leased a two-storey character retail building at 731 High Street, Armadale in Melbourne for five years with options for better retail exposure.
The 486sq m building also has a kitchen and parking.
Fitzroys' Jordan Ceppi and Alex Thomas negotiated a gross annual rent of $95,000.
Source: https://www.afr.com/real-estate/sports-giant-adidas-leases-and-opens-in-rundle-mall-in-adelaide-20161212-gt8ymf#ixzz4UFq8mFXm